For most of us, the glamour and torture of the Tour de France is out of reach. But a local cycling circuit can be just as rewarding – so multimedia author Yang-May Ooi is taking on the Tour de Penge in South London as part of her ReWilding My Life project….
Who's up for cycling the Tour de Penge 2018 with me?
Who needs to chase the yellow jersey when you have a yellow high viz vest?
Who needs Paris and the Champs Elysees when you can have the streets of South London?
Who needs the Tour de France when you have the Tour de Penge?
The title of this event is so brilliant, I had to sign up for it immediately!
The event is organised by the Penge Cycling Club and their webpage says:
"The Tour de Penge is a popular fixture in the local calendar and is part of the annual Penge Festival, taking up to 300 cyclists of all ages and abilities on a guided, safe and off-road route from Penge to the iconic Cutty Sark in Greenwich and back, a round trip of 16 flat miles.
You don't have to be a member of Penge Cycle Club to join in. For first timers, the revelation that you can cycle along canal paths and through parks all the way to the Thames will come as a wonderful surprise. For regular Tour riders, it is a great chance to enjoy a family ride, take in an ice cream and (hopefully) enjoy the sunshine…
The finish is at Alexandra School and the leaders will be briefed on the short new section of ride to take us there – and it will be well worth it, because we are putting on a feast. We have soft drinks for the kids, a fantastic BBQ and some refreshments for the grown-ups."
Carefree as a Kid
Since I got my Brompton a few weeks ago, cycling has been mainly just me coasting along exploring the South London areas within easy reach of home as I get used to the bike and build up my cycling stamina.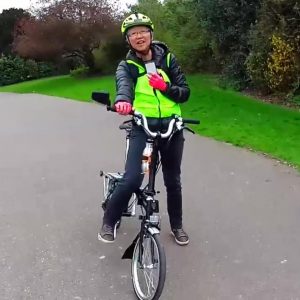 It has been an unexpected way to re-connect with a sense of the wild while living my ordinary life in a big city like London. Being able to whiz along to that sound of whirring bike wheels reminds me of the joys of cycling as a carefree kid.
I'm going down little streets I would not normally walk down. My curiosity gets me wondering…  Where does this go? What's over there?
Huffing and puffing up the steep hills in the local area has also been a strangely fun challenge despite the burning in my legs and chest (will I make it to the next crest without having to stop? Go on, you can do it! Oops, I've lost momentum and fallen off…)
The Tour de Penge looks like it could introduce me to new cycle routes to explore. It will be a new experience, too, to ride with a local community of cyclists – especially as they seem to be my kind of people… They seem to emphasise ice-cream and food as much as – and perhaps more than – speed, cadence, distance and general super skinny Bradley Wiggins style of sweaty exertion!
So I'm revving up my bicycle and looking forward to taking a fun ride through the London streets in a relaxed, communal throng!
One of my local cycling friends is already joining me – lured by the promise of a Tour de Penge T-shirt. Anyone else up for coming along with us?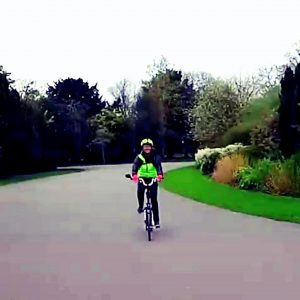 Join me to do the Tour de Penge
Date: Sun 10 June 2018 – registration 8.30am; ride starts 9.30am
Tickets: Free but you need to register by email by 01 June (see their webpage for info) or turn up at 8.30am on the day
Start: Penge Recreation Ground SE20 8HU
Find out more at Tour de Penge – Sun 10th June 2018  – or bit.ly/tourdepenge
~~
Photos: from my personal album
Flyer image: from Tour de Penge webpage with thanks
~~
Rewilding My Life is a Tiger Spirit project exploring how we can re-connect with nature and the wild within our modern urban lives – by multimedia author, Yang-May Ooi.
Yang-May Ooi is a multi-media author. Tiger Spirit UK her online space for exploring stories and how they shape our lives and our world. Her current multimedia projects include: ReWilding My Life, a personal exploration of our relationship with nature, and South London Voices, a podcast celebrating South Londoners. ¦ www.TigerSpirit.co.uk