In these uncertain times, we need things to keep us cheerful and motivated, don't you think? As 2019 dawns, multimedia author Yang-May Ooi launches a new project to do just that. Little Happy Things counts out the little things that make us happy – and we begin with a visit to luxuriate in the fabulous fashions of the 1930s at the Fashion and Textile Museum in London. 
Fabulous 1930s Fashion Night and Day ¦ Little Happy Things
The glamour of Fred Astaire and Ginger Rogers, Joan Crawford and Anna May Wong emerged during the economic depression of the 1930s and the rise of Fascism in Europe. The Night & Day exhibition at the Fashion and Textile Museum displays the glitz and the haute couture of that time as well as everyday wear – and sets it in the context of those troubling times.
It's a wonderful exhibition – even for a tomboy like me!
Take a look at my videoblog about our visit there.
I am a bit late to the fashion party as the exhibition closes 20th January 2019 but if you have a chance to go in the next few weeks, do try to make it! Their website for more info is www.ftmlondon.org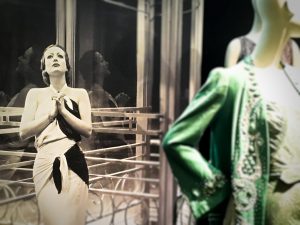 More Little Happy Things
You can find more Little Happy Things at bit.ly/TigerSpiritUK-LittleHappyThings. Please do also share this lighthearted project with anyone you know who may enjoy it!
—
Photos: from my personal album
Music: Give Me Food Instrumental Mix by Bobby Cole
—
Little Happy Things is a multimedia project by author Yang-May Ooi counting out the little things that make us happy to cheer us all up in uncertain times. Find out more at bit.ly/TigerSpiritUK-LittleHappyThings
Yang-May Ooi is a multimedia author & TEDx speaker. Her creative projects include Bound Feet Blues (theatre), South London Voices and Creative Conversations (podcasts). She also works with individuals, non-profits and small businesses to help them tell their unique stories to engage and inspire others. ¦ www.TigerSpirit.co.uk