In this very first podcast of South London Voices, local author, Stevie Henden, tells us about his family's connection to South London over a number of generations and his fascination with flying bombs and spiritual fantasy.
Stevie Henden: Family, Flying Bombs and Fantasy ¦ South London Voices podcast SLV001
Stevie Henden talks with host Yang-May Ooi about his family's multi-generational connection to South London and his London-inspired "spiritual fantasy" novels. Stevie also shares with us his fascination with the architecture and buildings of South London – and how World War Two and the Blitz impacted on the area. Join us to listen to this intriguing conversation with our very first South London Voice.
Watch Video Slideshow of Stevie and Yang-May
You can watch the slideshow version of the audio interview enhanced with photos and images below:
Links to some of the things we talked about:
Stevie Henden on Facebook – https://www.facebook.com/StevieHendenauthorpage/
Stevie's books on Amazon – amzn.to/steviehendenbooks
Stevie's website all about flying bombs and rockets – http://www.flyingbombsandrockets.com/
Crystal Palace Park – http://crystalpalacepark.org.uk/
Sydenham (and Dulwich) Wood – http://www.wildlondon.org.uk/reserves/sydenham-hill-wood-and-coxs-walk
Yang-May Ooi  – www.twitter.com/tigerspirituk and www.TigerSpirit.co.uk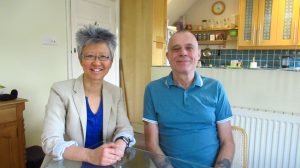 Subscribe to South London Voices
There are many different ways to listen and/ or subscribe to South London Voices.
(You may be prompted to download the free app on your smartphone/ device)
Anchor.fm – https://anchor.fm/southlondonvoices
Apple iTunes – apple.co/slv-itunes
Overcast – bit.ly/slv-overcast
Player.fm – bit.ly/slv-playerfm
Stitcher – bit.ly/slv-stitcher
Or search for "South London Voices" wherever you listen to your podcasts.
~~

South London Voices: the podcast celebrating people in South London and beyond , is hosted by multimedia blogger Yang-May Ooi and produced by TigerSpirit.co.uk ¦ www.SouthLondonVoices.co.uk
Yang-May Ooi is a multimedia author & TEDx speaker. Her creative projects include Bound Feet Blues (theatre), South London Voices and Creative Conversations (podcasts). She also works with individuals, non-profits and small businesses to help them tell their unique stories to engage and inspire others. ¦ www.TigerSpirit.co.uk