Creative actionista, Yang-May Ooi, chooses lazing in the garden despite missing out on a great theatre experience.
I would normally be very excited to get the chance to see a famous play with a famous Hollywood actress in the West End at a huge discounted price. Everyone is talking about this play. If I don't go, I would miss out on a great theatre experience.
But I just did not want to – as you will see in this video below.
Do we do things because everyone else is doing them? Because it seems fashionable and "in with the in crowd" to do them?
What if you really are not that interested? Or deep down inside simply don't want to do it?
I am discovering that ReWilding My Life is as much about re-connecting with my natural, authentic self as it is about re-connecting nature. My body can tell me – viscerally in a gut wrenching feeling – what I don't want to do. For too long throughout my life, I have ignored that feeling and done things I don't want to do. Now is the time to pay attention to my natural instincts and instead, do what brings me happiness and wellbeing. Even if it means being UnCultured at times!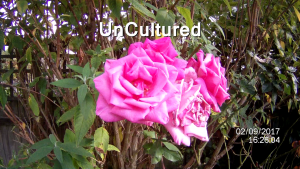 ~~
Rewilding My Life is  author Yang-May Ooi's personal journey to explore how our urban lives alienate us from the natural world – and how we can re-connect with nature and our sense of the wild. Follow this Tiger Spirit project via Rewilding My Life link on the left sidebar.
Yang-May Ooi is a multimedia author & TEDx speaker. Her creative projects include Bound Feet Blues (theatre), South London Voices and Creative Conversations (podcasts). She also works with individuals, non-profits and small businesses to help them tell their unique stories to engage and inspire others. ¦ www.TigerSpirit.co.uk