Writer Yang-May Ooi discovers fashionista street furniture in Oxford.
Knitwear for Lamp Posts ¦ Oxford Moments
Out on my Sunday walk this weekend, I came upon this nattily dressed lamp post with its equally chic companion flower pot. My partner told me that dressing street furniture in knitwear is apparently a "thing" – and once that was on my radar, I kept seeing  more jumpers adorning posts and other knitted knick-knacks all over the place.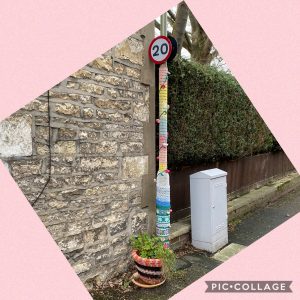 It seems that there are "yarn bombers" or "guerilla knitters" at large in Oxford.
I'm rather late to the party as it looks like graffitti knitting has been around since the early 2000s in America and the UK.
Who is / are the knitter(s) behind this fashionable lamp post and the other fancily dressed street furniture in Oxford?
My logical, analytical mind wants facts and a journalistic account of who, what, why.
But the more fanciful part of me does not want to know.
I like to think that fashion elves came one dark night at the beginning of winter and wrapped this skinny lamp post and its tubby companion in warm winter woolies against Oxford's damp chill. In the spring, I am convinced, these other wordly creatures with exquisite taste will come again and dress them in floral print dresses.
And as the days grow warmer and longer, the fashionista elves will return with floaty white summer linens, while during the Oxford Literary Festival, Lamp Post and Flower Tub will of course  have their moment in black polo necks and accompanying Gauloises.
—
Oxford Moments is a multimedia blog by author Yang-May Ooi, exploring the city of Oxford, its people and places. "Oxford inspired me as a student and infused much of my life over the last few decades. I have now moved back here and this project is my multi-faceted rediscovery of a city that I have always loved."  Follow Oxford Moments at bit.ly/OxfordMoments
Yang-May Ooi is a writer & podcaster. Her creative work includes The Flame Tree and Mindgame (novels), Bound Feet Blues (theatre & family memoir), The Anxiety Advantage and Creative Conversations (podcasts). ¦ www.TigerSpirit.co.uk