In a world dominated by Youtube videos and Instagram images that can take you anywhere in the world, is there still a place for travel writing? How can the different types of writing about travel tell us about where we come from and who we are?
Travel writer and Oxford resident Callum Ruddock joins Creative Conversations host Yang-May Ooi in a wide ranging conversation about the art of writing about travel, where they discuss the different types of travel writing and what travel can teach us about life.  As both of them are Oxford residents and neighbours, they also reflect on whether we can bring the curiosity of travel to the place where we live, especially in the context of the global pandemic and travel restrictions.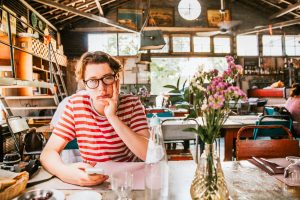 What Travel Writing can tell us about Life – Callum Ruddock CCV0404 ¦ Creative Conversations [podcast]
Listen to our conversation
You can listen to our conversations via the podcast player below:

Creative Conversations with Yang-May Ooi – Season 04 Episode 04 ¦ What Travel Writing can tell us about Life – Callum Ruddock CCV0404 
Links to some of the things we talked about
Callum Ruddock's websites ttps://www.callumruddock.com/
Charge d'Affaires magazine: https://chargedaffaires.co.uk/
Subscribe to the Creative Conversations podcast
If you've enjoyed this episode, it would be great if you could help me get the podcast to more people. Please do subscribe to the Creative Conversations podcast via the following links:
Anchor.fm – https://anchor.fm/creativeconversations
Apple – bit.ly/ccv-itunes
Overcast – http://bit.ly/ccv-overcast
Stitcher – bit.ly/ccv-stitcher
Spotify – https://spoti.fi/2WCrTTl
Or search for Creative Conversations by Yang-May Ooi wherever you get your podcasts.
Share this Podcast episode
You can also share this podcast episode with your friends using the shortlink below:
—
Photos: Callum Ruddock, with thanks
Music:
Southern Jam Nights by Neil Cross
~ via Storyblocks Audio Standard Licence
~~
Creative Conversations is a podcast about creativity in the arts, life and business. It is part of the Tiger Spirit family of creative content, conceived and presented by writer and podcaster Yang-May Ooi.
Oxford Moments is a multimedia blog by Yang-May, exploring the city of Oxford, its people and places. "Oxford inspired me as a student and infused much of my life over the last few decades. I have now moved back here and this project is my multi-faceted rediscovery of a city that I have always loved."  Follow Oxford Moments at bit.ly/OxfordMoments
Yang-May Ooi is a writer & podcaster. Her creative work includes The Flame Tree and Mindgame (novels), Bound Feet Blues (theatre & family memoir), The Anxiety Advantage and Creative Conversations (podcasts). ¦ www.TigerSpirit.co.uk