Writer/ photographer Yang-May Ooi had the best seat in the house to capture Mishal Husain in conversation with Bee Rowlatt at the Asia House Literary Festival.
Mishal Husain at Asia House ¦ Tiger Spirit Photography
Journalist and BBC presenter, Mishal Husain took to the stage at the Asia House Literary Festival the other day  to talk about her new book, The Skills: From First Job to Dream Job – What Every Woman Needs to Know . She was interviewed by author Bee Rowlatt and the rapport and chemistry between these two talented and inspiring women were evident on stage, making for a terrific event.
Mishal supports PAWA
Mishal is an early supporter of the charity Pan Asian Women's Association (PAWA), where I am also a member. PAWA raises funds for girls' education across Asia. The event at Asia House was co-hosted by PAWA and I had the honour of being the official photographer.
As photographer, I needed a clear view of the stage and found myself in a seat right in the middle of the elegant hall in Asia House, with a wonderful, unobstructed view of Mishal and Bee in conversation.
Slideshow of Photos
Click on the slideshow below to progress through a selection of photos from the event
Or you can go direct to the Mishal Husain photo album on Flickr:
bit.ly/tigerspirituk-flickr-mishalhusain
Presence and Nerves
Mishal spoke about how to exude presence and confidence not just on screen for the BBC but generally as a woman in any situation. She shared how she is still nervous when it comes to appearing live on TV, saying that nerves are a good thing and an energy that we can use to our advantage.
There were tender moments, too, when she talked about her family and also laugh out loud times – for example, when Bee challenged her to give advice to other high profile, high powered women, which was a light hearted and clever way to illustrate the tips for success in Mishal's book.
Links you may find interesting
PAWA – http://pawa-london.org/
Asia House – https://asiahouse.org/
Mishal Husain – bit.ly/mishalhusain-guardian
Bee Rowlatt – https://www.beerowlatt.com/about-me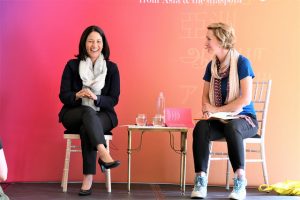 ~~
Photos: Yang-May Ooi, all rights reserved
~~
Tiger Spirit Photography offers event, portrait and art photography and is a new extension to Yang-May Ooi's videoblogging and creative services.
Yang-May Ooi is a writer & podcaster. Her creative work includes The Flame Tree and Mindgame (novels), Bound Feet Blues (theatre & family memoir), The Anxiety Advantage and Creative Conversations (podcasts). ¦ www.TigerSpirit.co.uk