Writer/ Photographer Yang-May Ooi captures some atmospheric photos from the South London Women Artists exhibition private view.
South London Women Artists Exhibition Private View ¦ Tiger Spirit Photography
I was invited by artist Lesley O'Mara to cover the launch of the South London Women Artists  (SLWA) Strong and Stable exhibition at their private view at the Asylum Chapel in Peckham the other evening around Halloween.
Meeting the artists
SLWA are a group of women artists who work in South London and beyond – online, through exhibitions, workshops and events. It felt very special to be their photographer for the private view evening as it gave me the chance to meet the artists and learn what inspired them to create the works exhibited that night – and also hear them talk about their techniques and working practices.
Slideshow of Photos
Here is a slideshow of some of the photos from the event – click through to progress to the next photos:
Or you can look at each photo in more detail on Flickr:
bit.ly/tigerspirituk-flickr-slwa
Asylum Chapel
The Asylum Chapel is a unique space in Peckham, exuding character with its haunting, textured structure. It was a challenge to photograph the artists and their guests as well as their creative work in the low light. It was also very cold and everyone was wrapped up in their coats and hats. But all that came together to make for a memorable event!
Strong and Stable
SLWA has regular exhibitions of their members work around a specific theme. For this event, the theme was Strong and Stable. Some of the artwork made political statements such as a house of cards on a felt top table and an effigy of a drunk woman dressed in a union jack. Other work took more personal and psychological interpretations such as a mysterious  image of a black wooden hut in the woods and a figure climbing up a rickety ladder…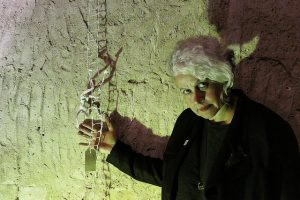 ~~
Photos: Yang-May Ooi, all rights reserved
~~
Tiger Spirit Photography offers event, portrait and art photography and is a new extension to Yang-May Ooi's videoblogging and creative services.
Yang-May Ooi is a writer & podcaster. Her creative work includes The Flame Tree and Mindgame (novels), Bound Feet Blues (theatre & family memoir), The Anxiety Advantage and Creative Conversations (podcasts). ¦ www.TigerSpirit.co.uk