You don't have to fight your way out of London every time you want to enjoy the countryside. You can find hidden pockets of nature within the big city if you hop on a bicycle and give yourself the time to explore the road less travelled, writes Yang-May Ooi.
Cycling the Road Less Travelled ¦ ReWilding My Life
My focus on reconnecting with nature has led me back to cycling, a past time I loved as a child and that helped me through a difficult period in my twenties.
But for many years, I stopped cycling because I felt unnerved by increasingly heavy London traffic. I was also focusing my energy elsewhere – on my corporate career, on my creative work and long-distance walking.
Closest thing to flying
Recently, I felt the urge again to get back on the saddle and whiz around in an experience that, in the words of my friend Phil Askew, is "the closest you can get to flying".
Since getting my Brompton, I've been out on my bike regularly around my local neighbourhood and taking day trips on the train to explore the South East.
Meandering
In a car, my aim is to get from A to B in the shortest time possible. I stick to main roads and only deviate if I think that side street will get me to my destination faster. When I am on foot, I stick to the shortest route from A to B as taking a detour down a side street takes a lot more energy and time.
But on my bicycle, I can easily meander down alleyways and streets that I would never drive or walk down. If I come to a dead end or the street takes me off somewhere I don't want to go, it's effortless to wheel around and go back the way I came. If it leads off into an interesting looking vista, I can follow it along to see where it goes.
Secret pathways
In fact, on my bike, I seek out quiet streets and little alleys deliberately. They make for more pleasant riding than the big main road. And it is surprising how many quiet and pleasant little roads there are – including many specifically designated as cycle paths that take you through hidden, traffic-free paths through parkland and secret waterways. Sometimes, it's almost like finding myself in the countryside when I turn the corner down an unexpected path.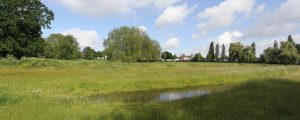 In my cycle meanderings along the roads less travelled, I've discovered new parks in the South London area as well as quiet tree-lined streets and European style alleyways. Most notable to mention here is the Waterlink Way, a lovely traffic-free route from Ladywell south to Cator Park.
Who knew South London could be so bucolic?
~~
Photos from flickr.com (CCL):
~~
ReWilding My Life is a Tiger Spirit project about re-connecting with nature and a more natural way of being, conceived and presented by Yang-May Ooi. Find out more at www.ReWildingMyLife.co.uk
Yang-May Ooi is a writer & podcaster. Her creative work includes The Flame Tree and Mindgame (novels), Bound Feet Blues (theatre & family memoir), The Anxiety Advantage and Creative Conversations (podcasts). ¦ www.TigerSpirit.co.uk