Multi-media actionista, Yang-May Ooi, shares why she is giving her time to PAWA (Pan Asian Women's Associaiton) as their online Magazine Editor – and why she wants you to support PAWA, too
Ten years ago, I was invited to join PAWA, the Pan Asian Women's Association, as one of their first members. I had a busy schedule at the time with my corporate career and also my creative projects so I was not sure I wanted to add another commitment to my diary. But when I learnt more about what PAWA does, I absolutely HAD to be involved.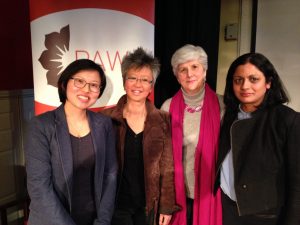 Educate a Girl, Change a Life, Break the Cycle
PAWA's mission is to support girls' education across Asia. Their tagline is: Educate a Girl, Change a Life, Break the Cycle.
Without education, girls are at a disadvantage in terms of their financial independence and the personal opportunities for living a full life. In PAWA's words: "Schooling and skill training is a precondition for a woman to enter the workforce as a wage earner and contribute to her family, her community and her society more productively. Gender-equality is not only a moral and human rights issue but the key to sustainable socio-economic development. Exclusion of women from economic life inevitably affects the prosperity of society as a whole."
I love the African proverb on PAWA's website, one of many inspiring sayings there:  "If you educate a boy, you educate an individual. If you educate a girl, you educate a community."
Over my life, I have benefitted from the best education available in Malaysia and the UK. My primary school was Bukit Bintang Girls' School (BBGS), one of the top schools in Kuala Lumpur. I then came to the UK to complete my higher education at Roedean, followed by St Hilda's Oxford and finally the College of Law Chancery Lane.
I have to confess that I hated school as a young girl. I didn't like to be stuck at my desk doing homework and revising for exams. I wanted to be playing with my friends or writing my little stories. But I understood the value of a good education so despite all the rebelliousness and angst, I made it through school and uni somehow. I am grateful to my parents for the sacrifices they made to put me through a privileged education – and for putting up with my moaning and playing up through it all! That education has opened up for me amazing opportunities for my career, self-determination, freedom – both financially and in my life choices.
The World Needs Educated and Empowered Women
PAWA's mission struck a chord with me. The world needs educated and empowered women and where better to start than with young girls – especially in some of the most economically deprived areas of the world. I have been a member of PAWA from the start and continue to support their work, raising funds for girls' education across Asia. More recently, I have become the Editor of the PAWA Online Magazine.
PAWA hosts a range of fundraising events – from panel discussions, arts jam events, fashion shows to film nights, theatre outings, convivial dinners and more, all with a pan asian theme. There are also fundraising challenges -there is an annual PAWA walk in a Central London park and members recently trekked the Great Wall of China, climbed Ben Nevis as well as an upcoming London Marathon challenge.
I love hanging out with the dynamic women – and men, too – of many diverse backgrounds who are PAWA supporters. They are educated, warm, friendly, community spirited and welcoming – interesting and also interested in everything.
As Editor of the PAWA Magazine, I get to share online everything about these fun events and inspiring challenges – and interview many of these dynamic women, too.
Also, we feature stories and profiles from the charities and young women supported by PAWA – and I am always awestruck and humbled by the commitment, determination and hard work of the girls who are focused on their education despite the most difficult life circumstances. Read Erika's story, for example – From garbage dumpsite to becoming a young leader.
Support Girls' Education in Asia – get involved with PAWA
I hope very much that you will take a look at the PAWA website and Magazine – and please do consider getting involved and supporting their great work. You don't have to be Asian or Pan Asian or even a Woman to support PAWA's mission – just someone who wants to help educate girls' across Asia!
Yang-May Ooi is a writer & podcaster. Her creative work includes The Flame Tree and Mindgame (novels), Bound Feet Blues (theatre & family memoir), The Anxiety Advantage and Creative Conversations (podcasts). ¦ www.TigerSpirit.co.uk