Novelist Anna Sayburn Lane joins host Yang-May Ooi on the South London Voices podcast to talk about her thriller Unlawful Things.
SLV006 Unlawful Things with Anna Sayburn Lane ¦ South London Voices [podcast]
I was super-excited to learn that my good friend Anna Sayburn Lane's novel Unlawful Things is due out this autumn – so naturally, since she is a South Londoner, I had to bring her on to my South London Voices podcast.
Anna and I are members of a small writing group which has been meeting regularly for the last 5 years or so. Over this time, our gang of writers have seen Anna  developing her novel, crafting and honing it to become the most gripping and well written version it can possibly be – and also had the exclusive privilege of hearing her read extracts from it. We are all really pleased for Anna that the book is finally going to be unleashed to a wider public.
Listen to the podcast
Here is our conversation on South London Voices….
Photos!
Please also check out the slideshow of photos below which includes some of the locations Anna mentions in our chat.
Links to some of the things we talked about
Here are the links to some of the things Anna and I talked about:
Anna's website http://annasayburnlane.com/
Anna on Twitter https://twitter.com/bloomsburyblue
St Nicholas Church, Deptford: https://www.stnicholaschurchdeptford.org/
Cobham Hall https://www.cobhamhall.com/343/cobham-hall-through-the-ages
Eastbridge Hospital https://www.eastbridgehospital.org.uk/
Rose Playhouse http://www.roseplayhouse.org.uk/
Christopher Marlowe  https://www.poetryfoundation.org/poets/christopher-marlowe
News Shopper newspaper https://www.newsshopper.co.uk/
Subscribe to South London Voices
There are many different ways to listen and/ or subscribe to South London Voices.
(You may be prompted to download the free app on your smartphone/ device)
Anchor.fm – https://anchor.fm/southlondonvoices
Apple iTunes – apple.co/slv-itunes
Overcast – bit.ly/slv-overcast
Player.fm – bit.ly/slv-playerfm
Stitcher – bit.ly/slv-stitcher
Or search for "South London Voices" wherever you listen to your podcasts.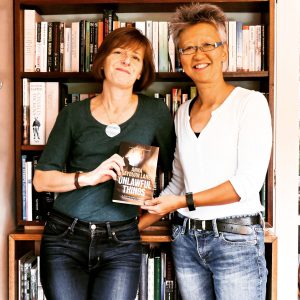 ~~
Photos: Cat Arwel, Anna Sayburn Lane, public domain and Yang-May Ooi
~~
South London Voices: the podcast celebrating people in South London and beyond , is hosted by multimedia author Yang-May Ooi and produced by TigerSpirit.co.uk ¦ www.SouthLondonVoices.co.uk
Yang-May Ooi is a writer & podcaster. Her creative work includes The Flame Tree and Mindgame (novels), Bound Feet Blues (theatre & family memoir), The Anxiety Advantage and Creative Conversations (podcasts). ¦ www.TigerSpirit.co.uk