We open Season 2 of Creative Conversations with a superstar episode to kick off 2019. Stage actor and performing artist Stephanie van Driesen joins host Yang-May Ooi to talk about what it takes to be a superstar in musical theatre in South East Asia, and why she is passionate about always learning and developing her craft.
Stephanie van Driesen on How to be a Superstar CCV0201 ¦ Creative Conversations [podcast]
Stephanie first contacted me a few months ago for permission to perform an extract from my solo theatre show Bound Feet Blues as part of a showcase evening. I was delighted and said Yes – but unfortunately could not go and see her show. I did catch up with her, however, a few days afterwards to hear how it went. On meeting her, I was immediately struck by her star presence and also her warmth and generosity of spirit. At a cafe at Hays Galleria, one hour turned into two and then three as we talked and laughed and sparked off each other's creative energy.
I knew I had to invite her onto Creative Conversations to share her exuberant love of theatre and her passion for her craft with a wider audience.
Listen to Stephanie van Driesen on Creative Conversations
You can listen to our discussion via the podcast player below:
Links to some of the things we talked about
Stephanie's website, with details of her Superstar workshops  http://www.sfastage.com/
Stephanie on Instagram https://www.instagram.com/stephanievandriesen
Stephanie on Twitter https://twitter.com/stephvandriesen 
Stephanie on Facebook https://en-gb.facebook.com/StephanieVanDriesen/
Sally Bowles, Cabaret bit.ly/ccv-cabaret 
Dorothy, Wizard of Oz https://en.wikipedia.org/wiki/The_Wizard_of_Oz_(1939_film)
Yang-May's solo theatre show Bound Feet Blues  www.BoundFeetBlues.co.uk
Betrayal by Harold Pinter https://en.wikipedia.org/wiki/Betrayal_(play)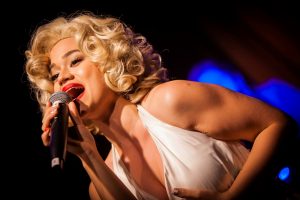 Subscribe to the Creative Conversations podcast
If you've enjoyed this episode, it would be great if you could help me get the podcast to more people. Please do subscribe to the Creative Conversations podcast via the following links:
Anchor.fm – https://anchor.fm/creativeconversations
Apple – bit.ly/ccv-itunes
Overcast – http://bit.ly/ccv-overcast
Stitcher – bit.ly/ccv-stitcher
Or search for Creative Conversations hosted by Yang-May Ooi wherever you get your podcasts.
I hope you'll also consider leaving a lovely review to help get this podcast noticed by more listeners.
Share this Podcast episode
You can also share this podcast episode with your friends using the shortlink below:
~
Photos:
Yang-May Ooi
Stephanie van Driesen's website
Music:
Southern Jam Nights by Neil Cross
~~
Creative Conversations is a podcast celebrating creativity in the arts, life and business. It is part of the Tiger Spirit family of creative content, conceived and presented by multimedia author Yang-May Ooi.
Yang-May Ooi is a writer & podcaster. Her creative work includes The Flame Tree and Mindgame (novels), Bound Feet Blues (theatre & family memoir), The Anxiety Advantage and Creative Conversations (podcasts). ¦ www.TigerSpirit.co.uk