Many of us live in big cities like London. We are surrounded by noise, crowds – and a lot of pollution. Is that lifestyle seriously damaging us? And can re-connecting with nature save our health? Ex-lawyer and creative consultant Tony Dillon joins Creative Conversations host Yang-May Ooi to tell us how re-connecting with nature re-invigorated his life.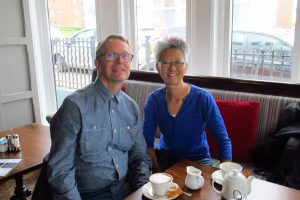 Tony Dillon on Re-connecting with Nature CCV0302 ¦ Creative Conversations [podcast]
I've known Tony Dillon since our thirties when we were both lawyers in London. We lost touch largely due to our busy work lives and the demands of our high-powered, high intensity careers. I was surprised and delighted when we found each other again via Facebook – and I learnt that he had moved down to Bexhill-on-Sea, having taken stock of his previously unhealthy and stressed-out lifestyle. 
When I visited him on the South Coast, he was clearly much more relaxed, happier and healthier than I remembered from all those years ago. Despite being 20 years older now, he was fitter and full of energy compared to the young, skinny lawyer I knew back then.
I was delighted that he agreed to share his story for my podcast. This was first recorded for ReWilding My Life but as I am winding that project down, I have moved our conversation here. While the focus of our conversation was on re-connecting with nature, there is a lot in it that is also related to creativity and creative thinking so I hope you will enjoy listening to our discussion.
Listen to our conversation
You can listen to our conversations via the podcast player below. (Apologies for some sound distortion during the recording due to technical issues outside of my control)

Creative Conversations with Yang-May Ooi – Season 03 Episode 02 ¦ Tony Dillon on Re-connecting with Nature CCV0302
Links to some of the things we talked about
Tony on LinkedIn – https://uk.linkedin.com/in/tony-dillon-56a4256
Bexhill on Sea – https://www.discoverbexhill.com/
Why is sea air good for you? – https://www.sciencefocus.com/the-human-body/why-is-the-sea-air-good-for-you/
Subscribe to the Creative Conversations podcast
If you've enjoyed this episode, it would be great if you could help me get the podcast to more people. Please do subscribe to the Creative Conversations podcast via the following links:
Anchor.fm – https://anchor.fm/creativeconversations
Apple – bit.ly/ccv-itunes
Overcast – http://bit.ly/ccv-overcast
Stitcher – bit.ly/ccv-stitcher
Spotify – https://spoti.fi/2WCrTTl
Or search for Creative Conversations by Yang-May Ooi wherever you get your podcasts.
Share this Podcast episode
You can also share this podcast episode with your friends using the shortlink below:
bit.ly/ccv-reconnectingwithnature
—
Photos:
Yang-May Ooi
Music:
Southern Jam Nights by Neil Cross
~ via Storyblocks Audio Standard Licence
~~
Creative Conversations is a podcast talking about creativity in the arts, life and business. It is part of the Tiger Spirit family of creative content, conceived and presented by multimedia author Yang-May Ooi.
Yang-May Ooi is a writer & podcaster. Her creative work includes The Flame Tree and Mindgame (novels), Bound Feet Blues (theatre & family memoir), The Anxiety Advantage and Creative Conversations (podcasts). ¦ www.TigerSpirit.co.uk