Malaysian journalist Zaharah Othman joins Creative Conversations podcast host Yang-May Ooi to talk about her lifetime in journalism covering both heartwrenching events like the MH17 tragedy and heartwarming personal stories of Malaysians overseas – and also her fascination with love stories from the past and across cultures.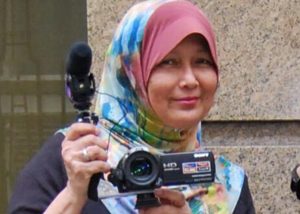 Zaharah Othman on Love Stories across Cultures CCV0202 ¦ Creative Conversations [podcast]
I first met Zaharah when she interviewed me many years ago for a feature about my books in the New Straits Time, Malaysia's premier broadsheet. I was delighted to turn the tables and interview her for Creative Conversations about her 40 years in journalism, covering a range of UK and European stories for Malaysian media.
In our wide ranging conversation, she tells us what it was like covering the MH17 tragedy and also how her journalism has helped Malaysians stranded overseas. She also shares her passion for stories from the past – which all seem feature love stories across cultures from Malay sailors in the UK to British soldiers falling for Malaysian girls.
Listen to Zaharah Otham on Creative Conversations
You can listen to Zaharah's fascinating story via the podcast player below:
Links to some of the things we talked about
Zaharah's blog http://kakteh.blogspot.com/
Postcards from Zaharah – Google Search bit.ly/ccv-postcardsfromzaharah 
Netflix film Pulang  https://www.netflix.com/gb/title/81020161
Subscribe to the Creative Conversations podcast
If you've enjoyed this episode, it would be great if you could help me get the podcast to more people. Please do subscribe to the Creative Conversations podcast via the following links:
Anchor.fm – https://anchor.fm/creativeconversations
Apple – bit.ly/ccv-itunes
Overcast – http://bit.ly/ccv-overcast
Stitcher – bit.ly/ccv-stitcher
Or search for Creative Conversations hosted by Yang-May Ooi wherever you get your podcasts.
I hope you'll also consider leaving a lovely review to help get this podcast noticed by more listeners.
Share this Podcast episode
You can also share this podcast episode with your friends using the shortlink below:
~
Photos:
Yang-May Ooi
Zaharah Othman
Music:
Southern Jam Nights by Neil Cross
~~
Creative Conversations is a podcast celebrating creativity in all its diverse forms. It is part of the Tiger Spirit family of creative content, conceived and presented by multimedia author Yang-May Ooi.
Yang-May Ooi is a writer & podcaster. Her creative work includes The Flame Tree and Mindgame (novels), Bound Feet Blues (theatre & family memoir), The Anxiety Advantage and Creative Conversations (podcasts). ¦ www.TigerSpirit.co.uk