Writer/ photographer Yang-May Ooi reports from the Link Age Southwark 25th Birthday Gala where she was the official event photographer.
Link Age Southwark 25th Birthday Gala ¦ Tiger Spirit Photography
It was a thrill to volunteer as the official photographer for the Link Age Southwark 25th Birthday Dinner the other evening.
Link Age Southwark (LAS)  vibrant South London charity providing friendly volunteer support to over 500 isolated, older people in Southwark. There are numerous fundraising events run by a range of enthusiastic and dedicated volunteers throughout the year.
The Gala Dinner was the big finale for this year and also a celebration of LAS work over the last quarter century.
Drinks and Jazz
As a new volunteer, it was my privilege to attend the event with my camera to capture images of the donors, guest, patrons and supporters – as well as the hardworking team of volunteers who pulled the rather special event together.
The sparkling Gala took place at Dulwich College, starting with drinks downstairs to the accompaniment of a talented College swing band. There was a silent auction whose prizes included a six course meal for 10 people cooked for you in your home and a week in a stunning villa in Tuscany!
Watch the video slideshow
Photo Album on Flickr
You can also check out a selection of individual photos in more detail in my LAS Gala Flickr album:
bit.ly/tigerspirituk-flickr-lasgala
Dinner in the Great Hall
After champange and jazz downstairs, the guests made their way upstairs for  three course dinner in the Great Hall. The women looked gorgeous in their beautiful gowns and cocktails dresses while dashing men in black tie and lounge suits escorted them up the sweeping staircase.
Jo Brand performed a set later in the evening and other honoured guests included author Edmund de Waal and actor Robert Glenister.
The charity night raised upwards of £20,000 for Link Age Southwark!
Support Link Age Southwark
Find out more about Link Age Southwark at www.linkagesouthwark.org.
Do consider supporting this terrific charity either by volunteering your time and talent or by giving a donation.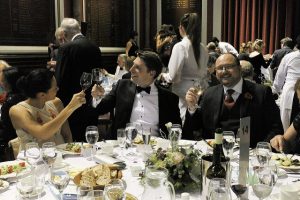 ~~
Photos and video slideshow: Yang-May Ooi, all rights reserved
~~
Tiger Spirit Photography offers event, portrait and art photography and is a new extension to Yang-May Ooi's videoblogging and creative services.
Yang-May Ooi is a writer & podcaster. Her creative work includes The Flame Tree and Mindgame (novels), Bound Feet Blues (theatre & family memoir), The Anxiety Advantage and Creative Conversations (podcasts). ¦ www.TigerSpirit.co.uk