Dulwich based author Stevie Henden talks with Creative Conversations host Yang-May Ooi about his family's multi-generational connection to South London and his London-inspired "spiritual fantasy" novels. Stevie also shares with us his fascination with the architecture and buildings of South London – and how World War Two and the Blitz impacted on the area.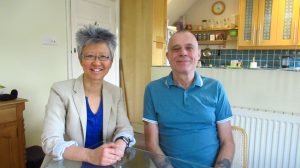 Stevie Henden on Family, Flying Bombs and Fantasy CCV0307 ¦ Creative Conversations [podcast]
Listen to our conversation
You can listen to our conversations via the podcast player below:
Creative Conversations with Yang-May Ooi – Season 03 Episode 07 ¦ Stevie Henden on Family, Flying Bombs and Fantasy CCV0307
Links to some of the things we talked about
Stevie Henden on Facebook – https://www.facebook.com/StevieHendenauthorpage/
Stevie's books on Amazon – amzn.to/steviehendenbooks
Stevie's website all about flying bombs and rockets – http://www.flyingbombsandrockets.com/
Crystal Palace Park – http://crystalpalacepark.org.uk/
Sydenham (and Dulwich) Wood – http://www.wildlondon.org.uk/reserves/sydenham-hill-wood-and-coxs-walk
Subscribe to the Creative Conversations podcast
If you've enjoyed this episode, it would be great if you could help me get the podcast to more people. Please do subscribe to the Creative Conversations podcast via the following links:
Anchor.fm – https://anchor.fm/creativeconversations
Apple – bit.ly/ccv-itunes
Overcast – http://bit.ly/ccv-overcast
Stitcher – bit.ly/ccv-stitcher
Spotify – https://spoti.fi/2WCrTTl
Or search for Creative Conversations by Yang-May Ooi wherever you get your podcasts.
Share this Podcast episode
You can also share this podcast episode with your friends using the shortlink below:
—
Photos:
Stevie Henden, Yang-May Ooi
Music:
Southern Jam Nights by Neil Cross
~ via Storyblocks Audio Standard Licence
~~
Creative Conversations is a podcast about creativity in the arts, life and business. It is part of the Tiger Spirit family of creative content, conceived and presented by multimedia author Yang-May Ooi.
Yang-May Ooi is a writer & podcaster. Her creative work includes The Flame Tree and Mindgame (novels), Bound Feet Blues (theatre & family memoir), The Anxiety Advantage and Creative Conversations (podcasts). ¦ www.TigerSpirit.co.uk